Swiss Signmaker Creaplot Invests in Jeti Tauro H3300 UHS LED
Creaplot AG from Münchenstein near Basel is one of the leading advertising technicians in Switzerland. An industrial high-performance inkjet system was procured more than ten years ago. As a replacement, it invested in a Tauro H3300 UHS LED last autumn. Agfa appropriately calls the high-performance machine "the beast." For Creaplot AG, it is an important tool for securing its own future.
"Creaplot AG is an innovative printing company with its core business in the areas of advertising, lettering and graphics as well as print jobs for large runs and customized one-off productions." This is how the company describes itself, modestly, on its website. But the company's history, beginning in the 1970s, reveals a great deal about the enormous structural changes that the "graphics, lettering and printing" business has brought with it for over forty years. At first it was a classic "litho shop" that produced large lithographs with analog Misomex devices. A little over thirty years ago, they were among the first to use Mac computers. Then followed expansion into the then exciting new business of computer-to-plate manufacturing.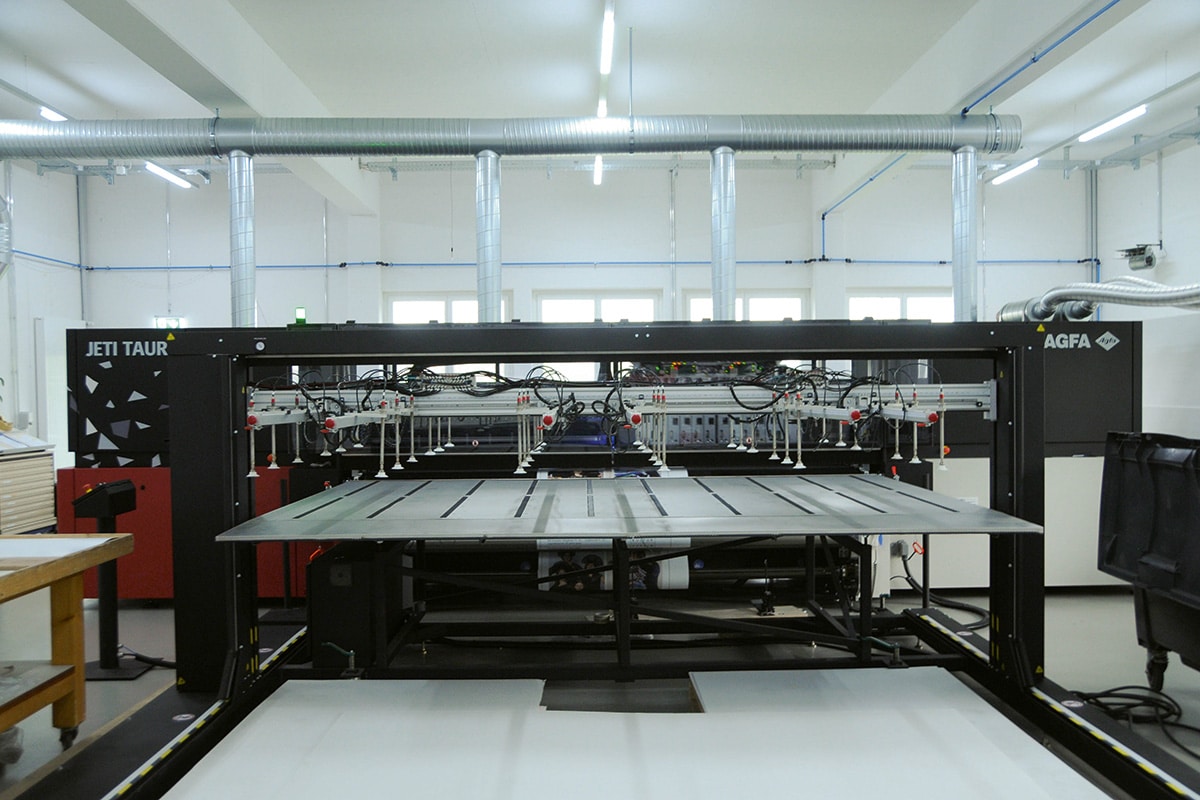 Additional print heads (a total of 80) were installed in the even more powerful UHS model, and at the same time the loading and unloading technology (including plate alignment and double gantry) was further developed for even higher throughput.
Under the name Bader Repro, the company supplied the printers in the region with printing plates. At first it was a boom business, but when printers later brought CtP production into their own operations, the company had to reorient itself again, a.o. in advertising. Today this is Creaplot's successful core business, thanks to high-performance digital inkjet systems.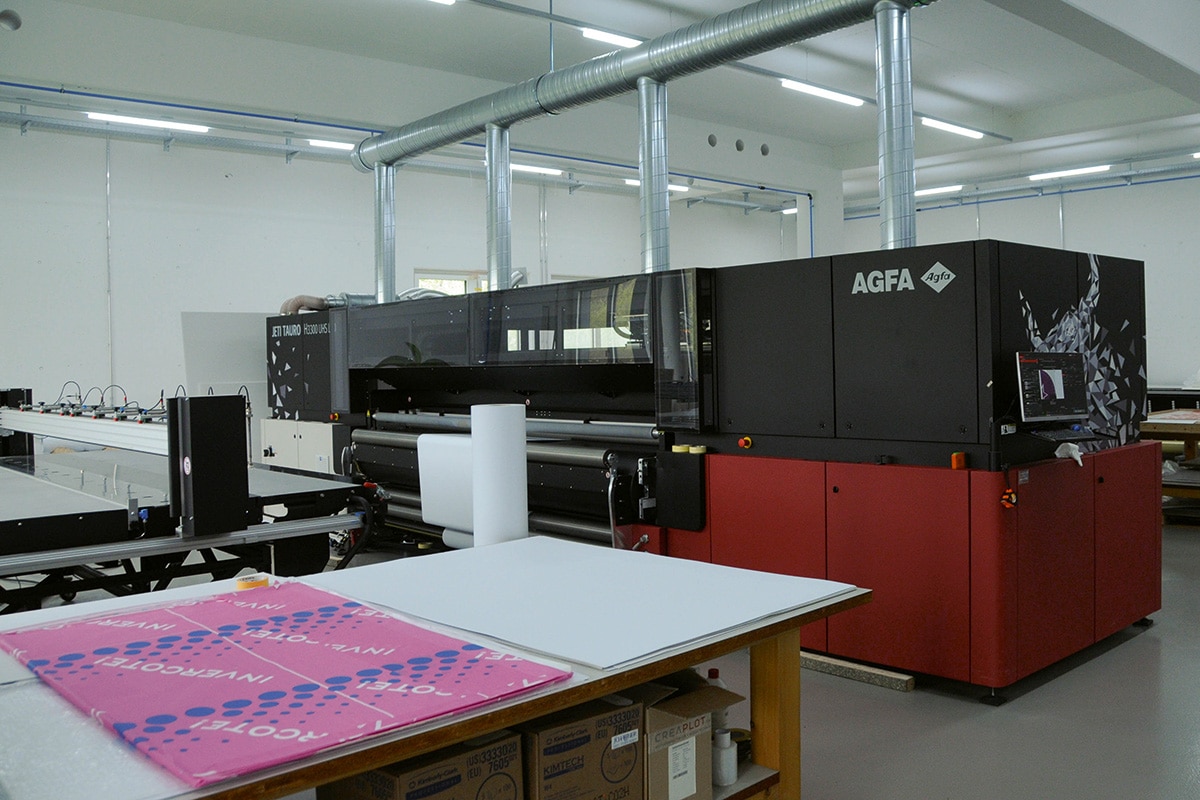 Creaplot AG installed the Tauro H3300 UHS LED in autumn 2022. It is the first machine of this type in Switzerland.
Family
Although Creaplot AG has thirty employees, it is a downright "classic" SME family business. "Classic" here means that you work for your own company, develop it and prefer to reinvest in the company rather than in a Ferrari. No fewer than five Baders are part of the Creaplot AG team! Daniel Bader and his two brothers took over the company from their father Markus Bader. One can speak of a kind of "dream constellation": Markus Bader, despite having reached senior age, is still fully committed and the company continues to benefit from the know-how he has built up over many years.
At the same time, however, he leaves his descendants "in peace" when it comes to strategic and operational leadership. This is, as we know from many examples, not a matter of course. Daniel Bader: "We started out as a very small business and grew continuously in the repro sector. Around twenty years ago, we faced essential challenges. The business model of a pure repro company did not offer any prospects for the future; we recognized that we should expand our added value with printing services, for example. In 2004 we purchased our first large-format inkjet system. Creaplot AG was created as a result of a restructuring in 2005. That was a challenge for all of us. We had significantly more employees, which posed challenges for us, who were used to working among family. Two corporate cultures also came together here. To be honest, it wasn't always easy. We had to learn that we could not do it alone as a family and that we had to run the company differently than in the past. But we definitely stayed a family. All of us from the Bader family are right in the middle of the action and we also lend a hand in production. There isn't the 'ground floor' with the production and the 'second floor' with the offices, no, we are all together in the middle of the action. This is an important element in a market environment where absolute flexibility is required."
Why 'the Beast'?
This brings us to the "main player" here, the Jeti Tauro H3300 LED UHS from Agfa. It comes with a story too. Daniel Bader: "Even my father had the strategy of always being a little different from the others. He deliberately looked for market areas where not many others were. Litho production via the Misomex systems was one such example, we were among the first to focus on desktop publishing and were considered pioneers in the CtF and CtP business.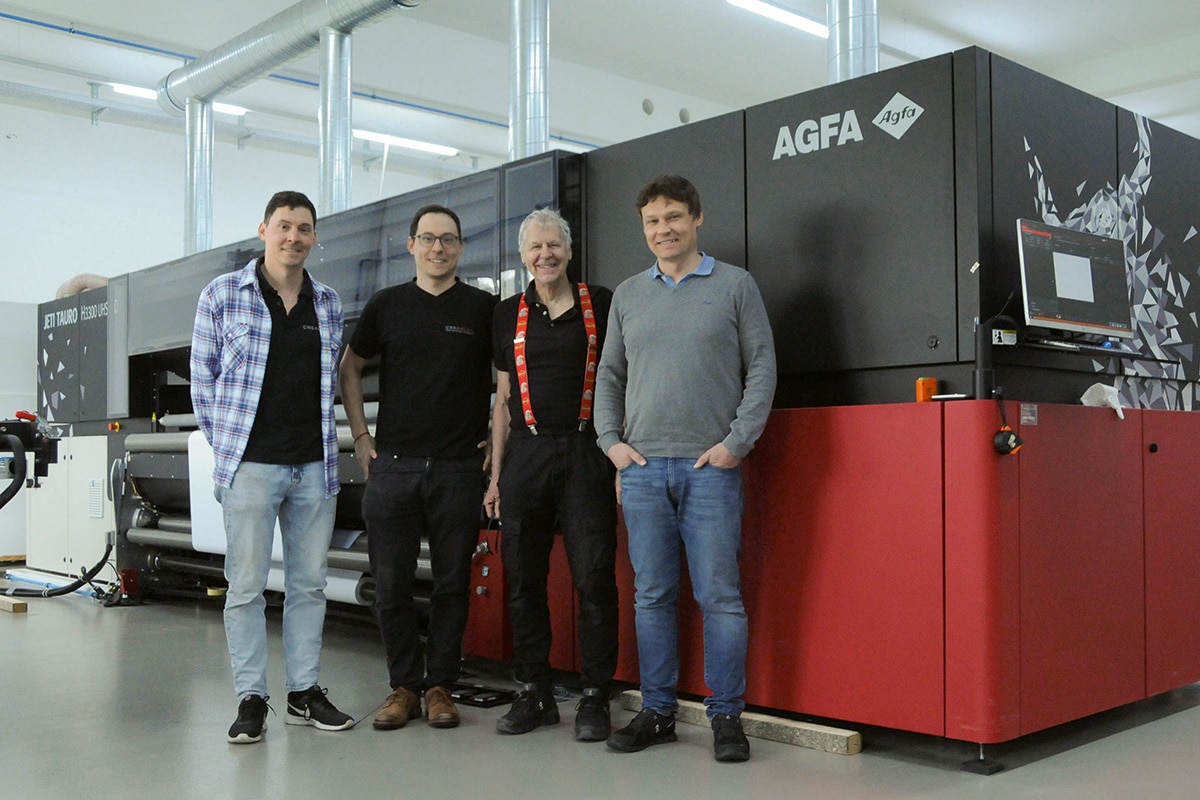 Creaplot AG is a typical family SME: Remo Bader, Timo Bader, Markus Bader and Daniel Bader
Yet new technologies are always associated with a certain risk and also a high level of commitment. If you want to be at the forefront, you also have to be able to deal with the corresponding teething problems. But if you do it right, you can reap some sort of reward over a period of time. So it's no secret when I tell you that we've been earning very well for a number of years and have thus been able to develop the freedom for future investments. That's why we were able to invest in a highly industrial inkjet system for advertising more than ten years ago. We were moving and are moving in a market segment where there are not that many providers in Switzerland. There are many advertising companies that work with wide-format systems and provide a challenging competition, but when it gets highly industrial, these companies simply can no longer keep up with the large systems economically. After around nine years of use, it was about time to replace the system that had been in use up until then. We were looking for a highly industrial, high-performance wide-format system in the supplier market and at the end of the evaluation, the Tauro H3300 UHS LED ideally met our requirements."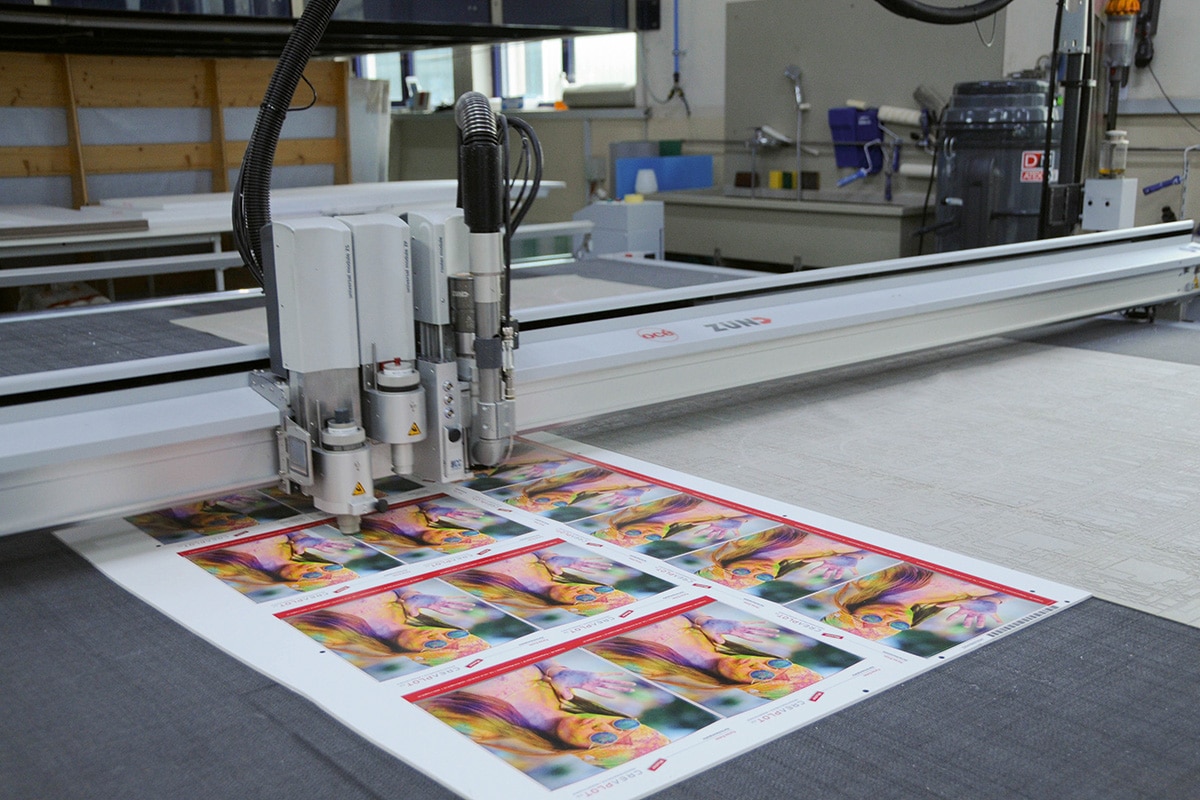 Creaplot AG is an innovative printing company with its core business in the field of advertising, labeling and graphics as well as print orders for large runs and customized one-off productions
Tauro H3300 UHS LED
Creaplot AG is the first to use the system in Switzerland. UHS stands for "Ultra High Speed" or specifically a printing speed of 905 m²/h. As a user, you can opt for the four-color or six-color version. Creaplot AG opted for the latter option. The Tauro H3300 is a so-called hybrid system, so it can process both flexible and rigid materials. The machine is available in various loading and unloading configurations. Creaplot AG works with three-quarters automation: a manual loading table combined with automatic alignment and transport, as well as automatic unloading.
The Tauro H3300 UHS LED is a logical further development of the Tauro H3300 LED, Agfa's flagship in the inkjet multi-pass wide-format printing market, which has been available for several years. Additional print heads (a total of 80) were installed in the even more powerful UHS model, and at the same time the loading and unloading technology (including substrate alignment and double gantry) was further developed for even higher throughput. Other innovations: Ink tanks that hold 20 liters so that you can produce longer without refilling. The reinforced gantry with the more powerful linear motors compared to the standard models prevent vibrations and ensures a precise print image. A patented, extended vacuum zone ensures that even thin cardboard can be processed perfectly.
Was it clear from the start that Creaplot AG would choose a Tauro H3300 UHS LED?
Daniel Bader: "We have a long business relationship with Agfa that goes back to the analog age. But that didn't play a role for this evaluation at first. We just looked at the systems available on the market. It must be said that there is not a large selection in the segment for highly industrial hybrid systems. In the end we focused on the offers from two manufacturers, both of whom gave us very good offers. After all the considerations, we came to the conclusion that the Tauro H3300 UHS LED is the best solution for us. To be fair, the competitor's product was also very good, but the Agfa machine was just a tad better suited to our needs."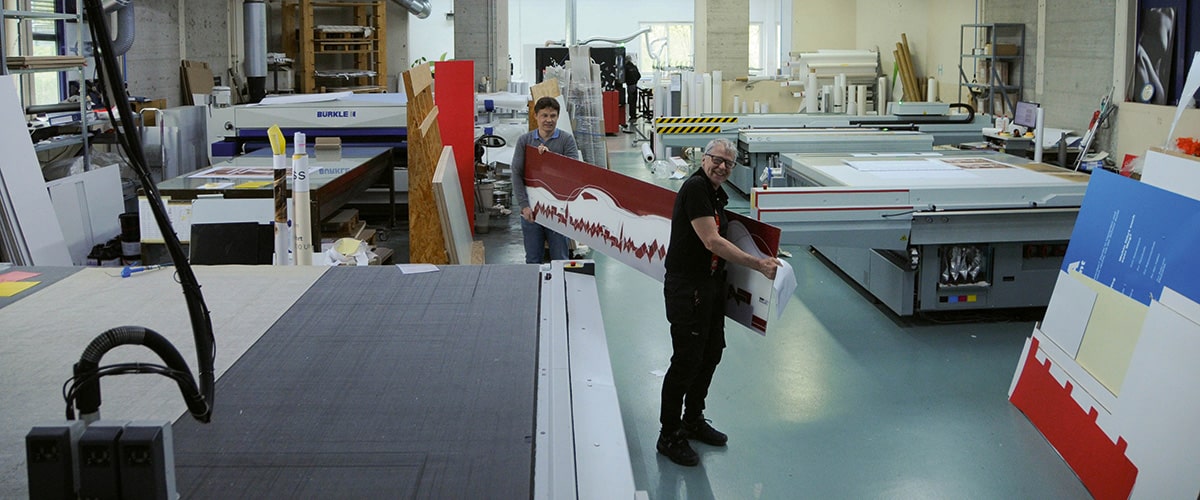 The Bader family is always in the thick of things and also lends a hand in production.
Practical experience
The Tauro H3300 UHS LED has now been in use at Creaplot AG for over half a year. Were expectations met? Daniel Bader: "When we put the predecessor system of the Tauro H3300 UHS LED into service almost ten years ago, it greatly strengthened our market position in the Swiss advertising market. With the commissioning of the new machine, we experience a similar effect. The high performance of the machine is impressive. We can also process larger panel formats with the selected configuration. Higher productivity in combination with larger formats: everyone can calculate for themselves what that means for us. The hybrid design makes the system very flexible. This means we can easily process larger poster runs. The Tauro H33300 UHS LED also enables us to offer customers interesting solutions in the increasingly attractive adhesive business. Of course, there is always one or the other point that can be improved, and we are in close contact with Agfa. In summary, it can be said that the machine has met our expectations in terms of quality and operational reliability. When it comes to productivity, the Tauro H3300 UHS LED has clearly exceeded our expectations."
Confidence
The investment in the new Tauro H3300 UHS LED is just one "expense item" of Creaplot AG. Parallel to the new large-scale system, the company building has been structurally expanded. Why? Daniel Bader: "As a successful and well-utilized advertising provider, we simply need more space."
The conversion phase was anything but easy, as the work processes had to be adapted several times to reflect the current construction status. But with the completion of construction and the end of the clean-up work, the company is benefiting from the process optimizations associated with the structural expansion. The extension and the new machine signal a kind of new beginning. Daniel Bader: Advertising is still a growing market, but you need to have the right answers to changing customer needs. The poster business is still interesting, because we benefit from the fact that we are on the outskirts of the museum and trade fair city of Basel. Another advantage of us: we are not 'just' advertising technicians. As a former repro company, we have many years of experience in data handling and data management. We present ourselves to our customers as a general contractor, because today they want a contact person, and that is what we are aligning our company strategy with."
The question of cooperation with Schaffner GF AG remains. The company has been selling the Agfa wide-format systems in Switzerland since 2021. Stefan Wundrig is "Mr. Digital" who looks after the Agfa and Xeikon customers. Interestingly, he himself worked for Agfa for many years, where he was primarily concerned with the implementation of digital solutions. The fact that Creaplot AG is now the first user of a Tauro H3300 UHS LED in the Swiss market fills him with a certain pride. Stefan Wundrig: "Two family businesses have found each other here. The example of Creaplot AG shows that SMEs can also operate successfully in the industrial high-performance segment." Daniel Bader: "We carried out many tests relating to the new machine at Agfa's headquarters in Mortsel, Belgium. But it's good to have a direct contact person in Switzerland who works in a similar way to us. That was also an element in the decision in favor of the Tauro H3300 UHS LED."
The preceding press release was provided by a company unaffiliated with Wide-format Impressions. The views expressed within do not directly reflect the thoughts or opinions of Wide-format Impressions.